Inside: Capitalism has delivered the world's biggest climate win. The solar plant next door doesn't have a lot of fans. Stock prices can get a lift when companies improve diversity. WeWork's IPO shows how much investors care about corporate governance. Sustainability beyond the coffee cup. — Emily Chasan
Sustainable Finance
Capitalism is the force behind the world's biggest climate victory. In 2010 coal supplied nearly half of America's power, but this April, for the first time ever, renewables supplied more power to the U.S. electric grid than coal. Solar and wind are expected to power half the globe by 2050.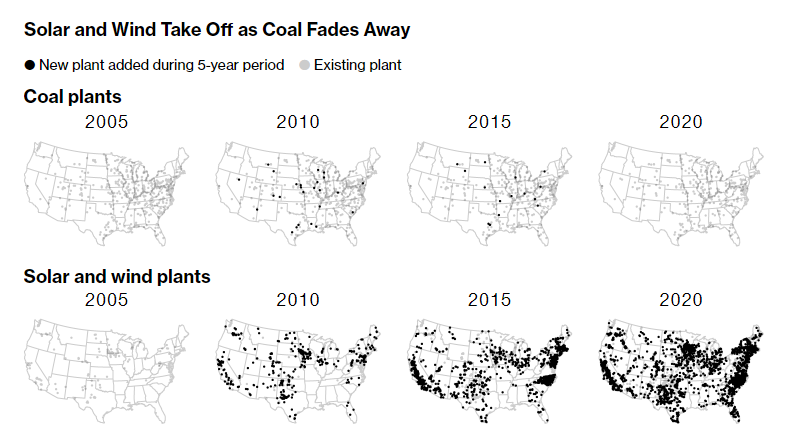 Banks are finally starting to account for climate change risks in their portfolios. It's not glamorous work, but banks' own operations and employee travel aren't really the main issue.

BlackRock and Vanguard are being criticized for opposition to shareholder efforts on climate change. Both supported fewer than 15% of climate resolutions in the latest proxy season. The firms say they meet with companies to press them to change. Voting is going to grow more important because just picking the good stocks isn't enough for ESG investors anymore, writes Bloomberg Opinion's Matt Levine. 

Super rich families are pouring wealth into ESG, and wealthy millennials say they are finally ready to invest as sustainably as they shop. 

Fannie Mae and Freddie Mac have been dominating the asset-backed green bond market.  but loan caps affecting how they offer pricing incentives on green improvements could affect their ability to keep issuing green bonds at the same pace after the fourth quarter, Cantor Fitzgerald analyst Darrell Wheeler said. Meanwhile, Wall Street is locked in a battle for dominance of the green bond market.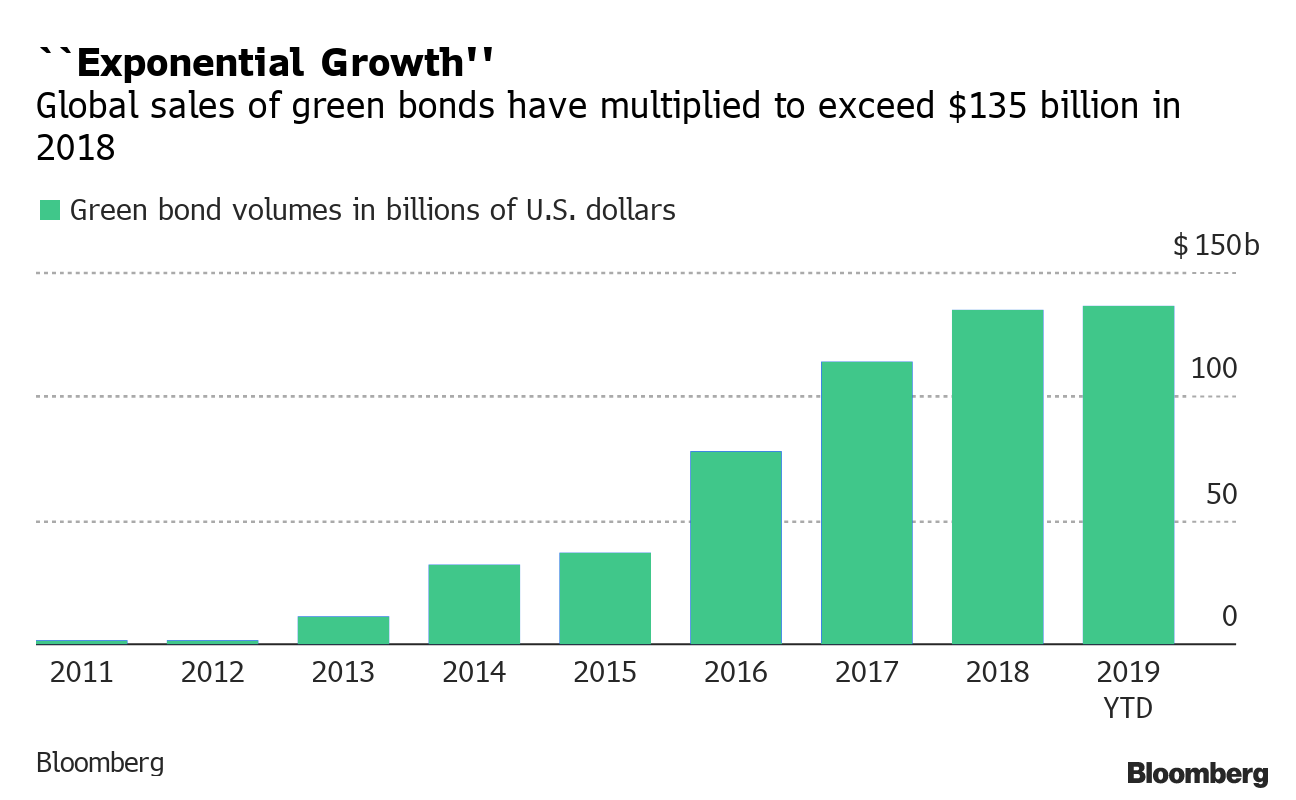 In Brief
Environment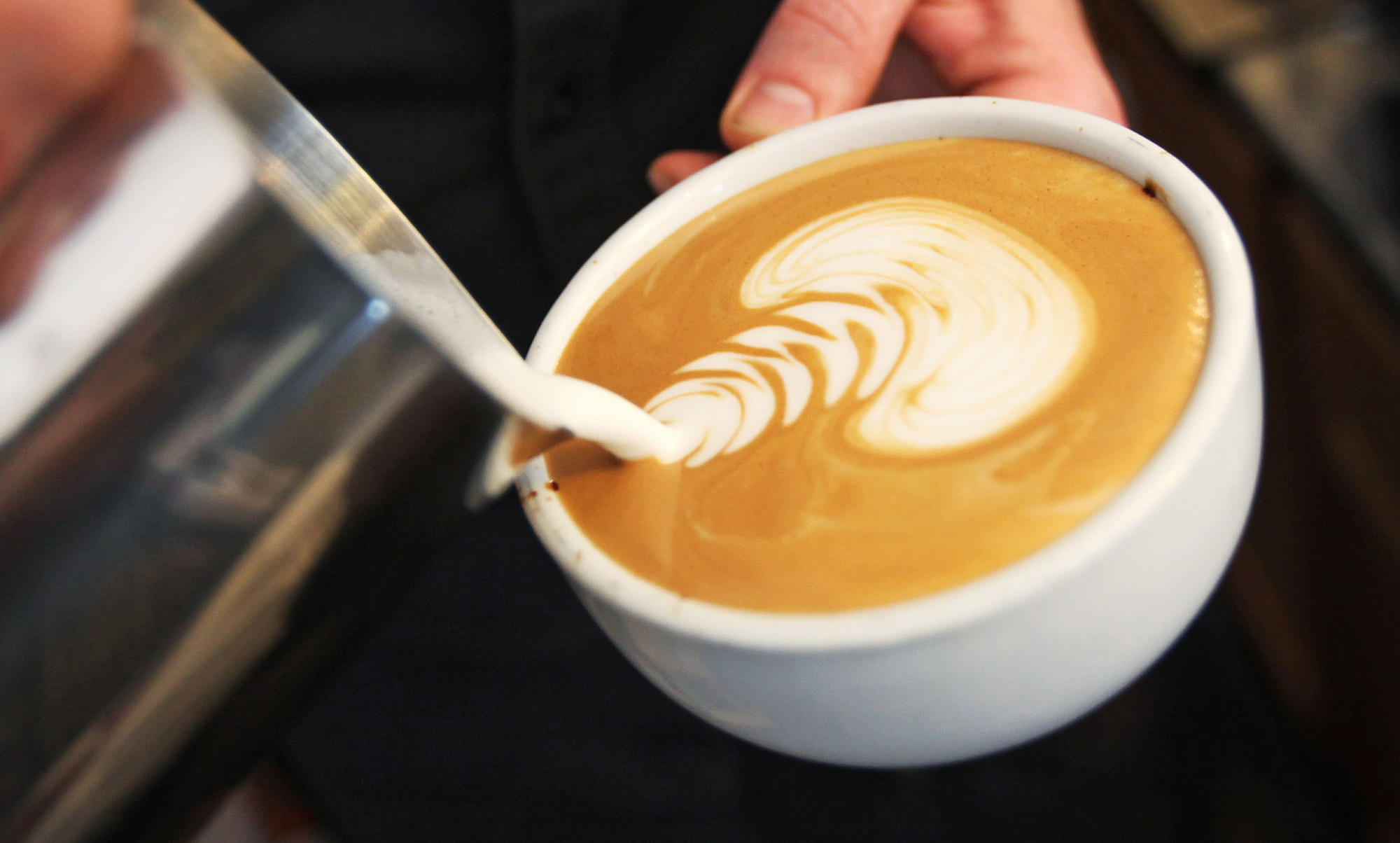 The coffee supply chain is becoming more sustainable. Illycaffe's chairman told Bloomberg TV the company's employing new agricultural tactics as it tries to become carbon-free by 2033. Impact investor DBL Partners backed Bellwether Coffee this month in a $40 million capital raise, as it has a lower carbon footprint for roasting beans. Coffee faces a climate-adaptation issue because higher temperatures are making it tougher for Arabica beans to grow. 

The U.S. EPA was ready to unveil plans to take away California's authority to set stricter auto emissions standards on Wednesday, but delayed the event until Thursday at the earliest, according to people familiar. 

Fast-paced global warming in Canada is increasing access to natural resources and creating a slew of jobs at booming new gold mines.

German politicians are thinking about doubling the tax on short-haul flights to curb airline emissions. 

Soaring oil prices following the attack on a Saudi Arabian oil facility fueled talk of alternative energy sources. Both the U.S. oil and biofuel industries cited the attack in their support for policies girding demand for ethanol. However quickly Saudi Arabia brings oil production back after drone attacks, the incident will prompt a rethink of energy-market security, according to Callum Macpherson, head of commodities at Investec.
Companies are tightening climate goals to strive for no more than 1.5°C of warming. More companies are expected to sign pledges for the tighter targets during New York's upcoming Climate Week. Investors are also asking large U.S. companies to ensure their climate lobbying is aligned with the Paris Agreement. Duke Energy, one of the largest U.S. emitters, pledged to eliminate carbon emissions from power plants by 2050 and offset those it can't. 

PepsiCo set a target to reduce use of virgin plastic by 35% in its beverage brands by 2025 and Nestle committed to zero net emissions by 2050.

Bill Gates says wind and solar subsidies should go to something new.

People love renewable power projects —just not the ones next door.
Social
When companies improve their diversity, their stock prices get a boost, according to new research. Credit risk is also higher at companies that have fewer women on their boards, according to new research from Moody's.

Employee groups at Google, Microsoft and Amazon are planning to walk out on Sept. 20 as part of the global climate protests. 
Governance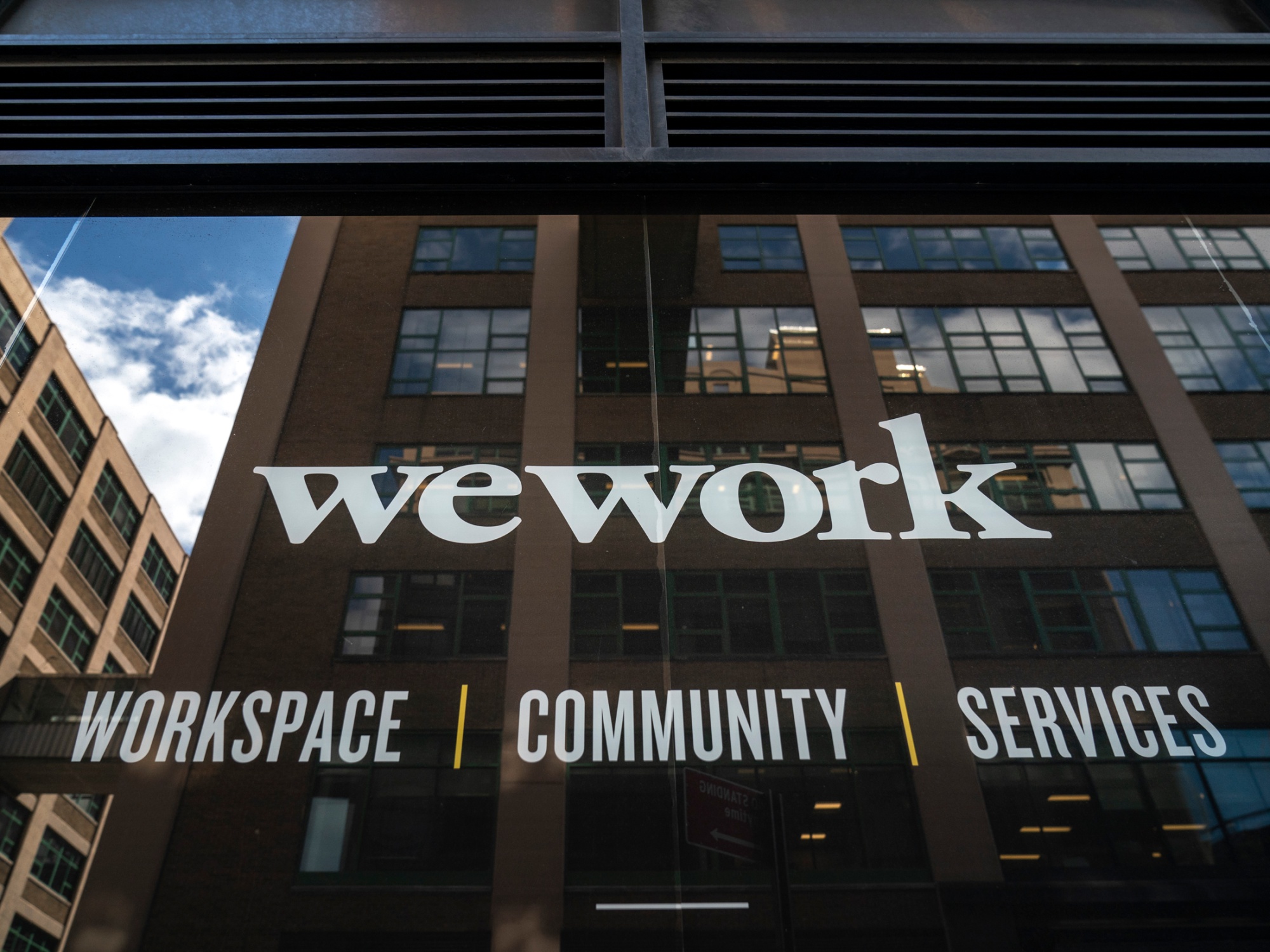 WeWork has discovered — under the harsh light of IPO scrutiny —that people care about corporate governance. The company tried to improve governance and shareholder voting rights, but its IPO is still on hold. Listen to Bloomberg Opinion's Shira Ovide discuss the situation on this podcast. 

Walt Disney CEO Bob Iger resigned from Apple's board signaling increased competition between the two companies over streaming services.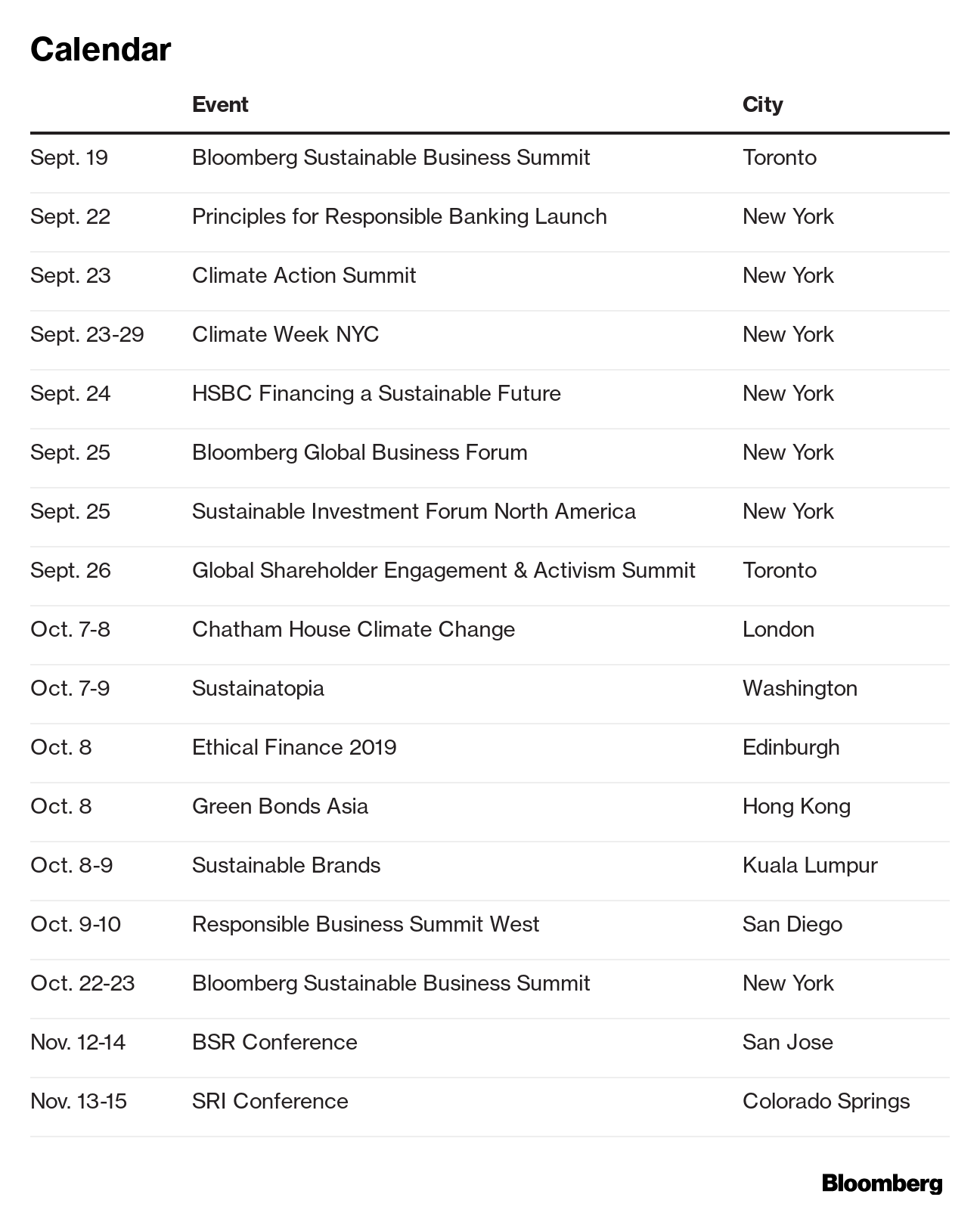 Note: Please send tips, suggestions and feedback to Emily Chasan at echasan1@bloomberg.net.
New subscribers can sign up here. To see this on the web, click here.

Bloomberg Invest London | October 8
Join global institutional investors and corporate leaders at Bloomberg Invest London on October 8 at Bloomberg's European headquarters. Speakers include CEOs Anne Richards, Fidelity International; Emmanuel Roman, PIMCO; Bill Winters, Standard Chartered; Andreas Utermann, Allianz Global Investors; and Lorenzo Bini Smaghi,Societe Generale.