Inside: Banks aren't moving fast enough on climate change;Time's up for California's all-male boards; Wind tops solar in corporate clean energy buys; Airlines push renewable fuel; Amazon ups its minimum wage; Jamie Dimon calls annual shareholder meetings a farce. — Emily Chasan
Sustainable Finance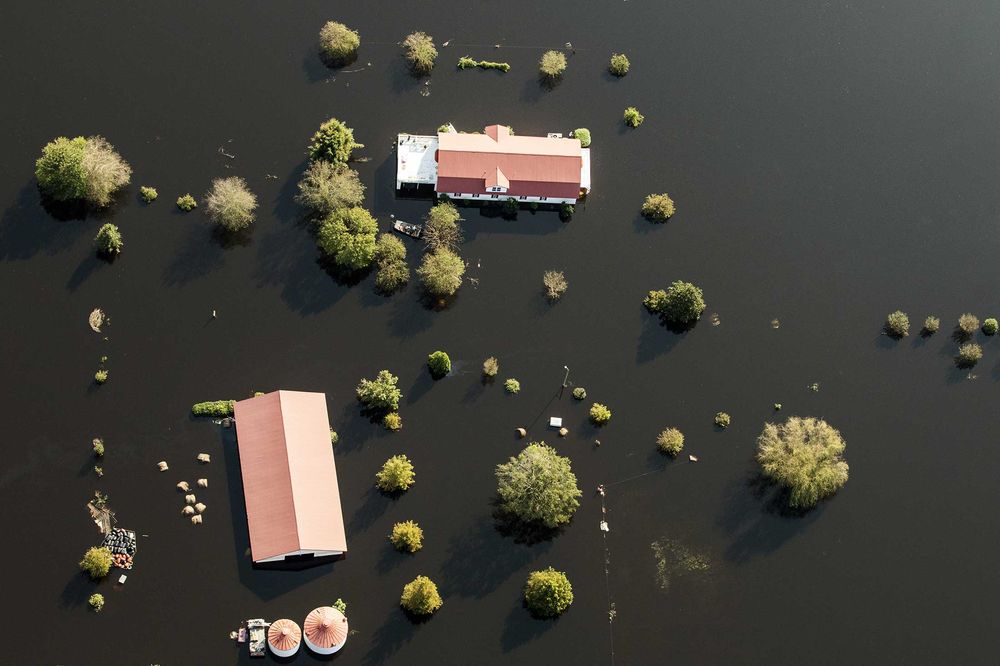 The Bank of England warned that banks are doing too little, too late on climate change. While a majority of lenders are beginning to treat the consequences of climate change like other financial risks, only one in ten are taking a long-term "strategic" approach to the issue, while 60 percent are looking just three to five years ahead, the bank found in a survey. Some lenders are starting to retool for a warmer planet. "If we are really moving toward a long-term shift in the economy, then everything will be green," says Leon Wijnands, head of sustainability at ING Groep, which recently started steering its $600 billion corporate lending portfolio toward alignment with the Paris climate accord. "Ultimately, we want our whole balance sheet to be future proof," he said. 

California's 165 all-male boards are facing a 2019 deadline to find a female director, under a bill signed by Governor Jerry Brown last week. The law requires a company with five directors to have at least two female members by 2021. If a board has six or more directors, three will have to be women — a threshold many of the state's giants including Facebook Inc. and Tesla Inc. don't currently meet. 

Elon Musk reached a settlement with the SEC over his "funding secured" tweet, agreeing to a three-year ban from serving as chairman and a $20 million fine. Tesla also agreed to pay a $20 million fine, add two new independent directors, and implement controls over its outspoken CEO's communications. The changes could be the recipe corporate-governance minded investors have been hoping for, writes Bloomberg's Dana Hull. In spite of the volatility over the past quarter, the company hit its targets for Model 3 production, the car is becoming one of America's most popular sedans, and Musk told employees the car maker is "very close" to achieving profitability.

Cereal might be a good bet in Japan as more women move into the workforce as part of the country's Womenomics plan, and households with two working adults are increasingly shifting to the convenient breakfast food, according to Bloomberg Intelligence analyst Thomas Jastrzab. The $22 million BNY Mellon Womenomics Fund, which bets on the advancement of women in Japan, has been outperforming by making similar bets on products that meet the needs of working women and  launched a version of the fund in the U.S. last month.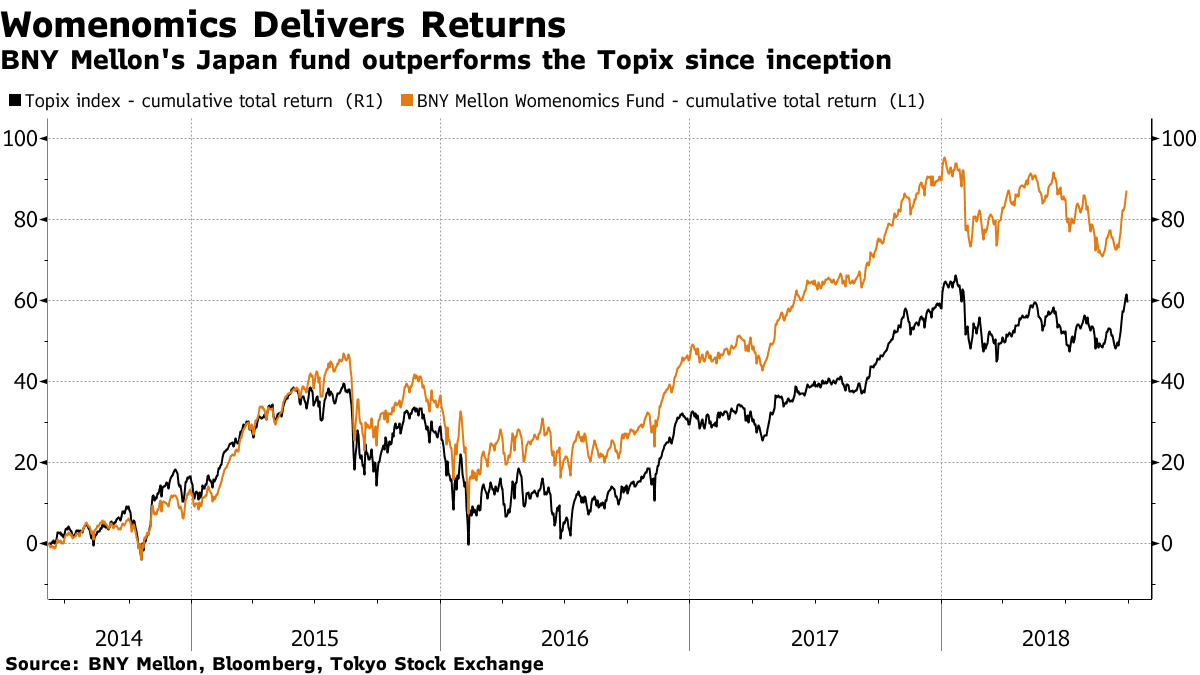 In Brief
Morningstar acquired Fund Votes Research, a data firm that tracks mutual fund proxy voting records. Terms of the deal were not disclosed and Fund Votes founder Jackie Cook will join Morningstar.
Going vegan? There's now an ETF for that. Beyond Advisors has registered with the SEC to start trading a U.S. Vegan Climate ETF.
Citi, JPMorgan and Fidelity are among a dozen financial services firms that signed onto an initiative aimed at increasing diversity across asset management. 
Toronto wants to issue shorter-dated green bonds to follow up its first 30-year green bond, Randy LeClair, the city's manager of capital markets, said at the Bloomberg Canadian Fixed Income Conference. The city may also consider issuing bonds for social housing. 
Environment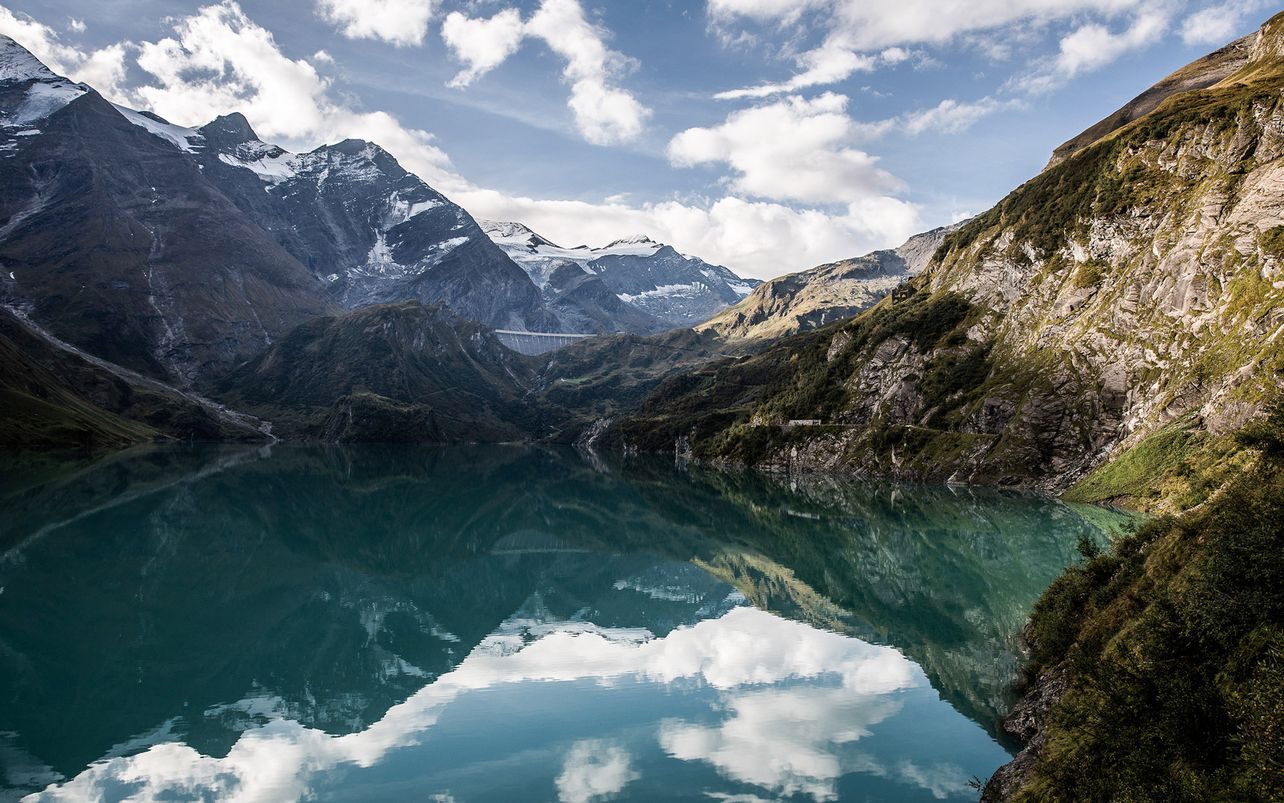 The world isn't making enough batteries to store solar energy, writes Bloomberg's Brian Eckhouse. All of the new demand from North America, Europe and Asia is constrained at the moment by a market that remains heavily dependent on a few producers. Energy storage doesn't have to be just lithium ion. The world's most beautiful battery is a hydroelectric station high in the Austrian alps, that has been adapted to store solar and wind energy for when it's needed most.

Sustainable forestry gets the NAFTA treatment. The rebranded trade deal among the U.S., Canada and Mexico includes commitments that the three countries will promote sustainable forest management and cooperate on initiatives to promote sustainability, including those to combat illegal logging, writes Bloomberg Environment's David Schultz.

Seven-Eleven adopted a new eco-friendly refrigerant made by Honeywell aimed at lowering costs and significantly cutting the carbon footprint of its freezers. Refrigerant management is one of the top solutions to cutting greenhouse gases, according to Project Drawdown which has used academic research to map out solutions for climate change.

The top solution to reducing greenhouse gas emissions is a combination of educating girls and family planning that could allow women to have the exact number of children they want, according to Katharine Wilkinson, vice president of communications for Project Drawdown. "Educating girls has a ripple effect on greenhouse gases and how many feet will be making their carbon footprints," Wilkinson said at a Glenmede Investing in Women event in New York last week. 

Wind is the overwhelming favorite source of clean energy among corporate buyers this year, with power purchase agreements (PPAs) more than doubling those of solar, according to Bloomberg NEF. Companies around the world have signed PPAs for 5.4 gigawatts of wind in the first nine months of the year, compared with 2.4 gigawatts of solar. Facebook remains the biggest clean energy buyer this year, as the technology sector has taken the lead on these deals, writes Bloomberg Opinion's Nathaniel Bullard.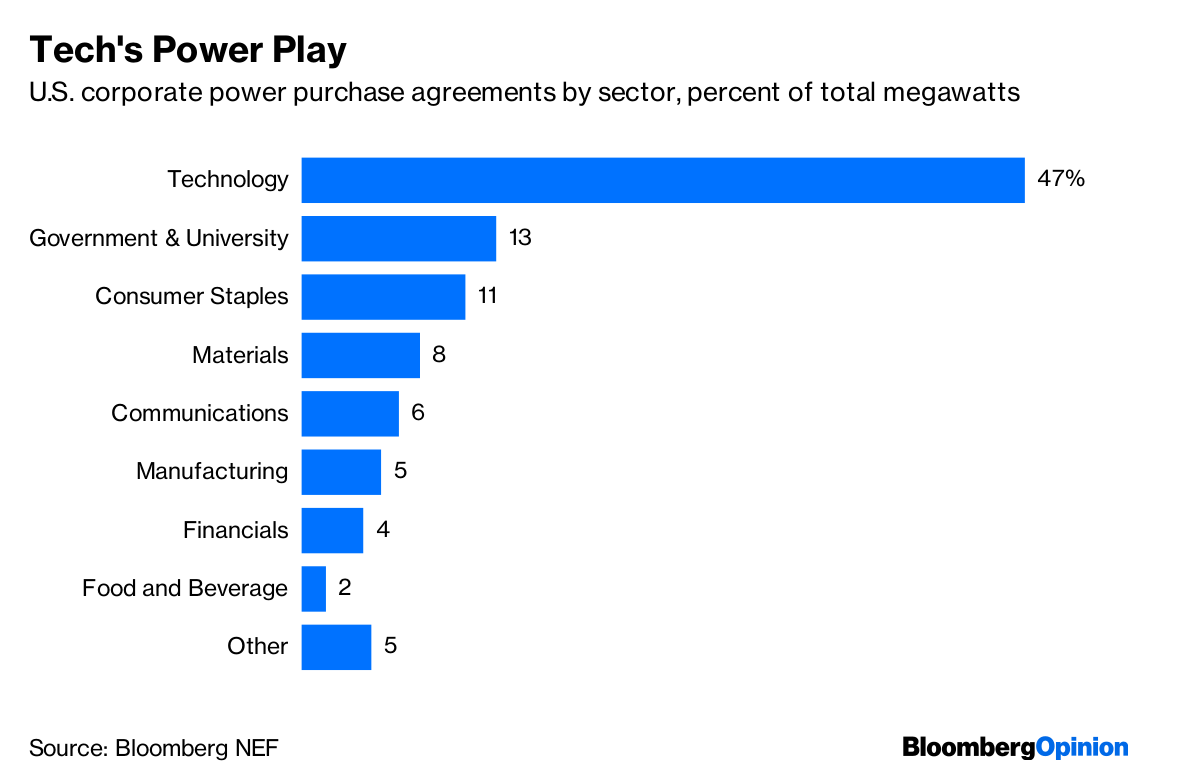 Airlines are working on locking in renewable fuel costs the same way tech companies use PPAs to lock in renewable energy costs. Renewable jet fuel provides more predictability and price control than traditional jet fuel, and can achieve a 50 percent reduction in lifecycle CO2 emissions, JetBlue General Counsel Brandon Nelson said at the company's ESG investor dinner this week. Renewable fuel sources are seen as critical in cutting airline emissions, with several major carriers planning larger-scale usage in 2019 and 2020. Virgin Atlantic Airways CEO Craig Kreeger asked the U.K. government this week to make "urgent" investments in sustainable biofuel for commercial aviation.

The World Bank called for an urgent worldwide focus on "serious waste reduction," in a new report, saying over 2 billion tonnes of municipal waste are generated today, and that is on track to increase 70 percent by 2050 unless there are major changes.
Social 
Amazon raised its minimum U.S. hourly wage to $15 effective Nov. 1, affecting more than 350,000 full-time and seasonal workers. The company is bowing to political pressure and a tight labor market as it's faced criticism over low wages, but the higher wages could change the way U.S. workers think about part-time versus full-time work, writes Bloomberg Opinion's Conor Sen. It could also squeeze margins at brick-and-mortar retailers that will be forced to compete with higher wages to retain talent, just as they head into the crucial seasonal selling period.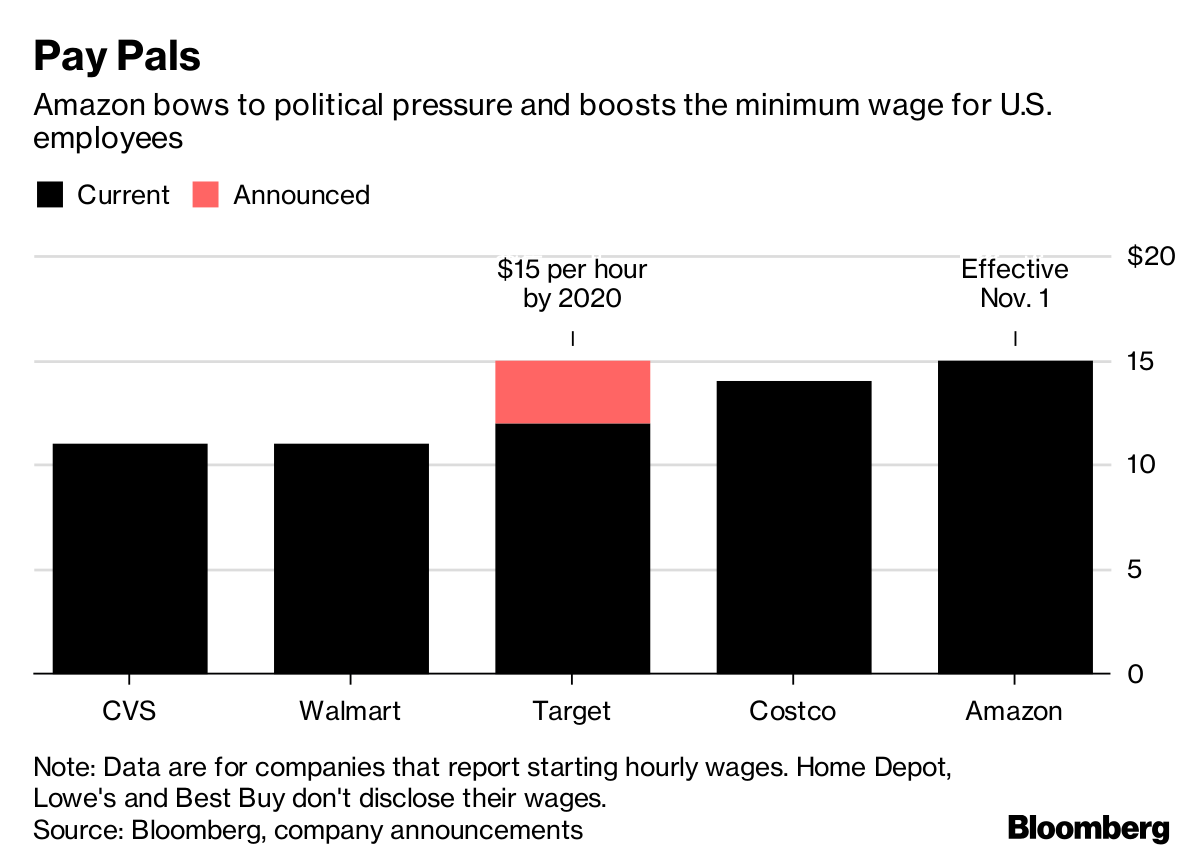 Toys 'R' Us creditors that concluded the retailer didn't have any ability to raise further cash and sending it to bankruptcy are urging former backers of the retailers to set up a hardship fund for workers who lost their jobs, according to the Financial Times. Lenders, under fire for their role in the retailer's liquidation, cancelled an auction for its intellectual property this week and are leading a reorganization effort aimed at reviving the brand. 
Facebook said its worst security breach ever affected almost 50 million accounts, hammering its trust from users again. Facebook lead board member Susan Desmond-Hellman backed CEO Mark Zuckerberg, in spite of the breach, saying she thought he was still the right leader to tackle the social network's trust issues.

California is requiring drug manufacturers and pharmacies, including Walgreens and CVS, to take back unused drugs and used needles in a bid to prevent the waste from ending up in landfills. Gov. Jerry Brown signed a bill creating the program on Oct. 1. It's the first safe sharps disposal and collection program for a U.S. state.

Chipotle will face a class action trial alleging the fast-casual restaurant chain deceptively markets beef, chicken, and pork raised on GMO feed as GMO-free. The suit was certified this week by a California judge.

Uganda is planning to join the Extractive Industries Transparency Initiative aimed at rooting out corruption in mining and assuring investors that it isn't involved in conflict minerals. 
Governance
JPMorgan CEO Jamie Dimon said shareholder meetings have "become a farce" and are one of the things preventing companies from wanting to go public.  

Asset managers might disagree. Support for shareholder proposals from large institutional investors is up to almost 29 percent on average, according to an analysis by Broadridge Financial Solutions and PricewaterhouseCoopers. Big institutions such as BlackRock,  Vanguard, and State Street are now twice as likely as individual investors to back shareholder advocacy on environmental and social issues, writes Bloomberg Law's Andrea Vittorio.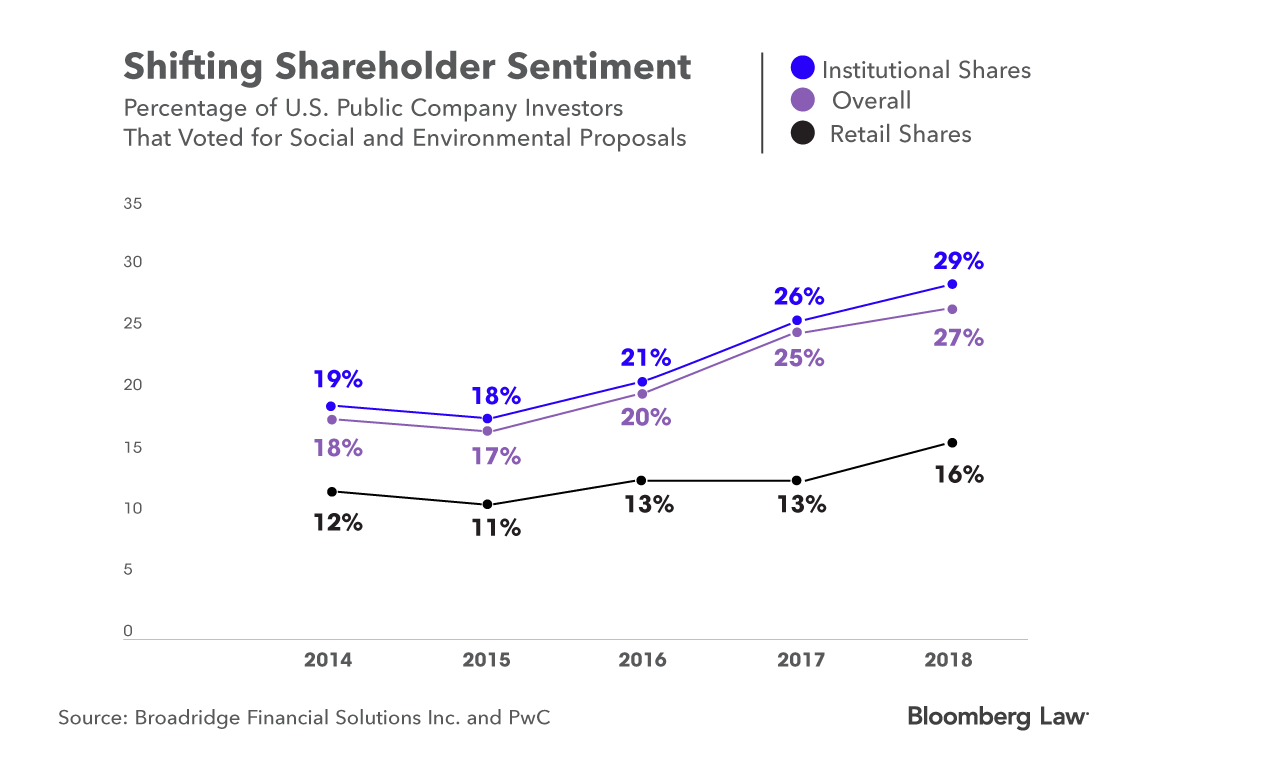 The U.S. SEC should develop mandatory ESG disclosures for public companies, investors with assets worth more than $5 trillion urged the regulator this week in a formal request for rulemaking. Fewer than 7 percent of investors globally say they're satisfied with ESG disclosures provided by companies, according to a survey of 542 institutional investors by RBC Global Asset Management this week.

U.S. companies are increasingly banning some types of political spending amid increased investor pressure and a more divisive political environment, according to the Center for Political Accountability's annual report. This year, 176 S&P 500 companies prohibited some kind of election-related spending, up from 158 last year.

Large U.K. companies are failing to disclose non-financial information to regulators on diversity, strategy and environmental effects, advocacy group ClientEarth said in a complaint to the Financial Reporting Council. The accounting regulator found in a report last month that 85 percent of FTSE 100 companies fail to comply with diversity reporting requirements. Changes to the U.K.'s corporate governance code announced in July require companies to give more information on these areas beginning in 2019.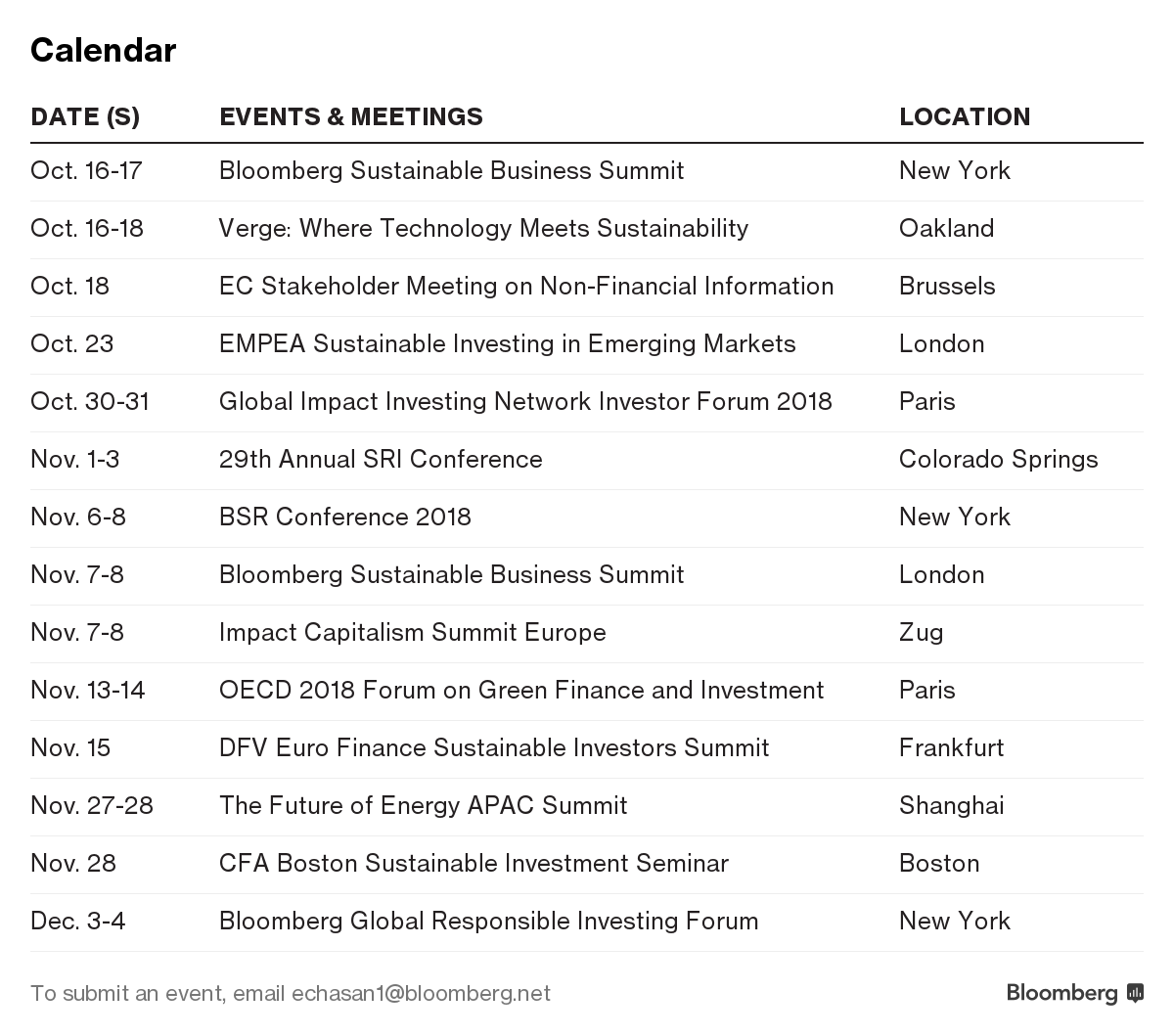 Note: Please send tips, suggestions and feedback to Emily Chasan at echasan1@bloomberg.net.
New subscribers can sign up here. To see this on the web, click here.