Inside: The Fed discovers climate change. Apple co-founder charges the Apple Card has a bias against women. Greenhouse gases are up for the second year. CBS CEO gets $100 million severance to keep his job. Billionaire bank CEO calls inequality a "huge problem." —Eric Roston and Emily Chasan
Sustainable Finance
The San Francisco Federal Reserve Bank hosted its first conference on climate change, at which central bank officials embraced the threat of a warming world and discussed how looming crises may interfere with the bank's mission. "The impact of these events go well beyond their immediate disruptions," San Francisco Fed President Mary Daly said. "They can destroy wealth, exacerbate existing income inequalities, and — in the most severe cases — displace people permanently."
Global greenhouse-gas pollution rose for a second year, ending a lull in emissions and putting the world on track for further increases through 2040 unless governments take radical action.The findings in the International Energy Agency's annual report on energy paint a grim outlook for efforts to rein in climate change and mark a setback for the increasingly vocal environmental movement. Renewables are booming, just not enough, and the world can't quit coal.
Precision-motor maker Nidec is planning to price $917 million in green bonds this month. It would be the largest such issuance in Japanese markets. Kyoto is exploring a green debt sale to finance ESG initiatives. Russia, the world's biggest energy exporter, is expected to launch ruble-denominated green bonds from three issuers by the end of the year.
In Brief
Sweden's central bank will no longer hold bonds issued by high-emitting jurisdictions in Canada and Australia. 
Electric-car manufacturer Xpeng Motors Technology raised $400 million from investors who include Xiaomi.
Tesla chose Berlin for the site of its European gigafactory. 
Former GE Chief Jeffrey Immelt joined the board of Bloom Energy, a fuel-cell maker that's struggling to raise its stock price. 
McDonald's agreed to buy enough wind and solar electricity to power more than 2,500 restaurants.
The SASB Foundation named Janine Guillot, currently Director of Capital Markets Policy and Outreach, as its new CEO.
Generation Investment Management and T. Rowe Price led a $400 million funding round for Convoy, valuing the trucking startup at $2.75 billion. 
Environment
With bushfires ravaging Australia's eastern coast, Prime Minister Scott Morrison's government is refusing to discuss the role of climate change in the blazes. David Fickling of Bloomberg Opinion likens Morrison's responses to questions about climate change and fires to "the 'thoughts and prayers' mouthed by American politicians after gun-violence episodes."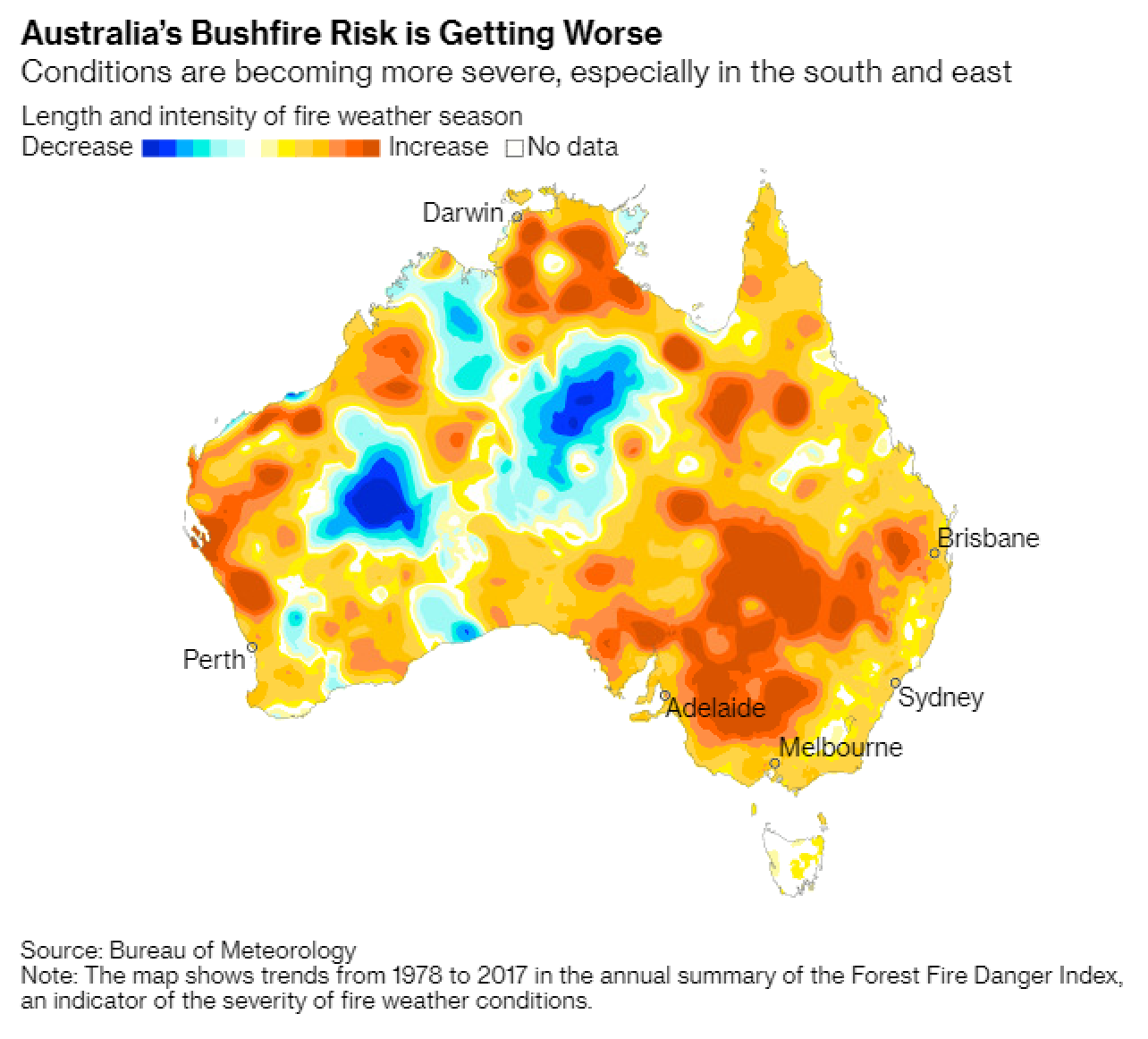 As if California doesn't have enough problems with its electricity, now regulators warn that the state may be short on power supplies by 2021 if utilities don't start lining up new sources now. The California Public Utilities Commission said the state's electricity providers need another 3.3 gigawatts of reserve power, or enough to power about 2.5 million homes. Also, the state's plan to require solar panels on every new home might have a loophole.
Norway's opposition leader, the Labor Party's Jonas Gahr Støre, wants the country's $1 trillion sovereign-wealth fund to help shape the global conversation about green investing. His comments marked a break with previous policies and were greeted with skepticism by conservatives.
The top threat to Tesla's future is Musk's 2016 acquisition of SolarCity. SunPower is spinning off its panel manufacturing business to focus on installing rooftop solar. Maxeon Solar, which will be based in Singapore, will take over production operations. Meanwhile, U.S. rooftop solar installation companies are stockpiling panels.  
Post-holiday returns to online retailers are killing the environment, writes Adam Minter of Bloomberg Opinion.
Fukushima is investing $2.7 billion in renewable power. The 600 megawatts of generation will dispatch power to Tokyo and nearby areas.
Social
Charges that have haunted the finance industry for years — bias against women — have resurfaced with the Apple Card, which is administered by Goldman Sachs. The models that guide lending decisions may disadvantage certain groups. Apple co-founder Steve Wozniak and a tech entrepreneur lit up social media this week complaining about how their wives were treated differently than they were.
JPMorgan Chase's billionaire chief, Jamie Dimon, called U.S. income inequality a "huge problem" on 60 Minutes, but he stopped short of saying America's top executives were being paid too much. Watch Dimon on 60 Minutes.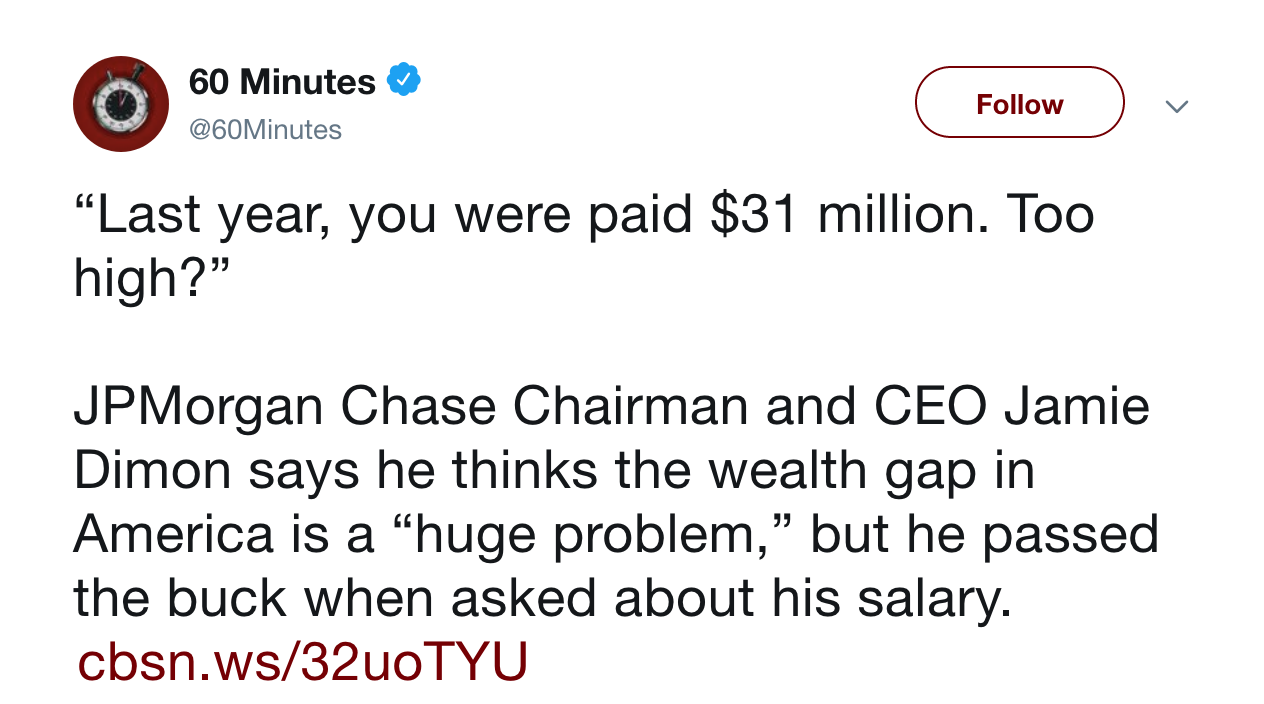 Microsoft has hired more women and minorities but still faces persistent diversity challenges, according to a company report. Women make up just 28% of the workforce. In the U.S., 4.5% of employees identified as African-American or black, and 6.3% identified as Hispanic of Latinx. Dell set a goal to make half its global workforce female by 2030, and for women to make up 40% of managers. Women made up 30% of the company's workforce as of February.
Governance
CBS's acting CEO Joe Ianniello will receive $100 million severance when Viacom completes its proposed merger with the broadcaster. He'll remain head of the network post-merger, with a new contract entitling him to tens of millions of dollars more. 
Elon Musk offered short-seller David Einhorn a tour of Tesla's facilities. Einhorn accepted and suggested that they begin in the company's troubled solar plant in upstate New York. 
Data-center company Switch eliminated its dual-voting class structure. The structure had prevented the company from inclusion in indexes and ESG investment funds, according to a Raymond James analyst.

PayPal is piloting a new kind of quarterly investor call focused on long-term issues and corporate responsibility, organized by Just Capital.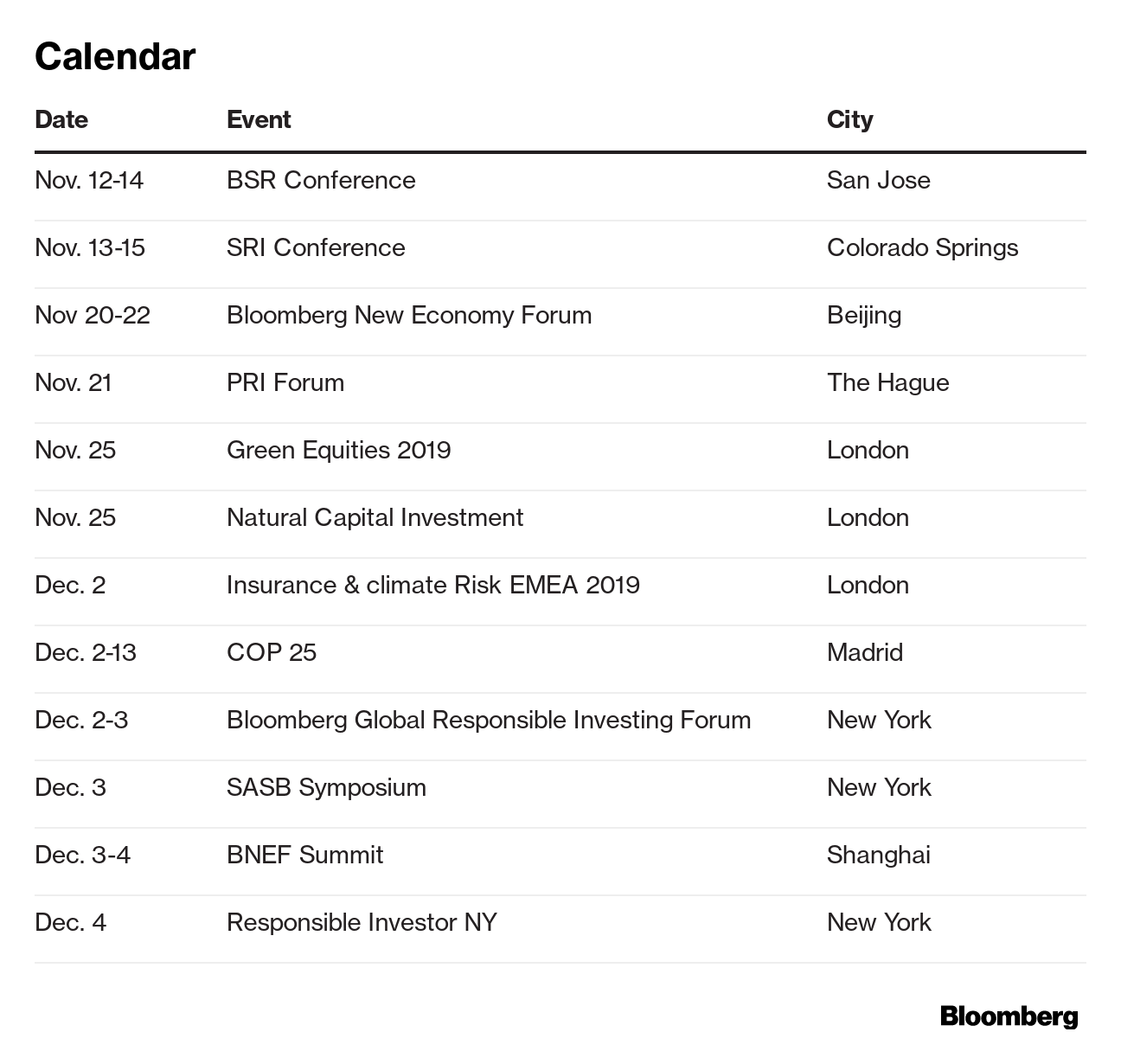 Note: Please send tips, suggestions and feedback to Emily Chasan at echasan1@bloomberg.net.
New subscribers can sign up here. To see this on the web, click here.