Inside: Five trends to watch in 2020. Banks plans to go green still include oil and gas. The worst-case scenario for climate change doesn't look that realistic anymore.The machine silencing #MeToo on Wall Street.   — Emily Chasan
What to Watch in Sustainable Finance in 2020
1) Going Green. Really Green.  
Energy stocks just haven't kept up with the broader market, which could push investors to look more closely at whether fossil fuels are really a worthwhile investments. Peak emissions aren't here yet, but they may be close. "Decarbonization is certainly dominating the conversation," says Bloomberg Intelligence analyst Eric Kane. A Stanford University study says phasing out fossil fuels and running the entire world on clean energy would cost $73 trillion but could pay for itself in under seven years.

Policy pressure will also play a role. Just ask Angela Merkel. After the COP 25 climate talks in Madrid did little to clarify how governments will pay for investments in climate adaptation and mitigation, they'll face even more pressure to ratchet up their commitments to reduce emissions in time for next year's COP 26 — the first year nations are expected to boost commitments under the Paris Agreement. Companies may have to accelerate their efforts in tandem, but still only 754 companies have made science-based targets to keep their emissions within a 2 degree global warming scenario. "Most organizations that have committed to science-based targets cannot articulate in detail how they are going to meet it, especially to 2050," said Bruno Sarda, president of CDP North America. "But if you set a goal that's 30 years out and you already know how to meet it, then that's not a good enough goal."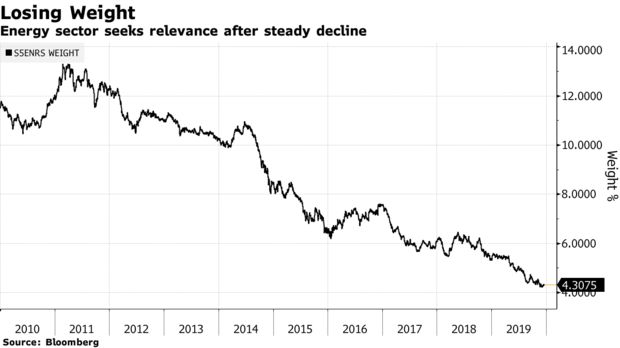 2) Shareholder Proposal Shakeout
It might be the last hurrah for shareholder proposals as we know them. The U.S. Securities and Exchange Commission is pushing a plan to overhaul the proxy-advisory system and make it tougher for small shareholders to submit proposals. Investors hurried in a lot of new proposals before the end of the year under the old rules, and will push large investors like BlackRock and Vanguard to clarify their voting policies. This comes as environmental and social proposals have become the majority of proposals filed by investors, and in an election year when proposals on issues like political contributions disclosure typically spike. It's unclear how many will reach a vote. The SEC  is already siding more this year with companies that want to keep proposals off the ballot. "In the U.S. the stewardship theme will be climate and the world's largest asset managers are likely to make some big bold public decisions that catapult the industry really quickly this year," says John Hoeppner, head of U.S. stewardship and sustainable investments at Legal & General Investment Management America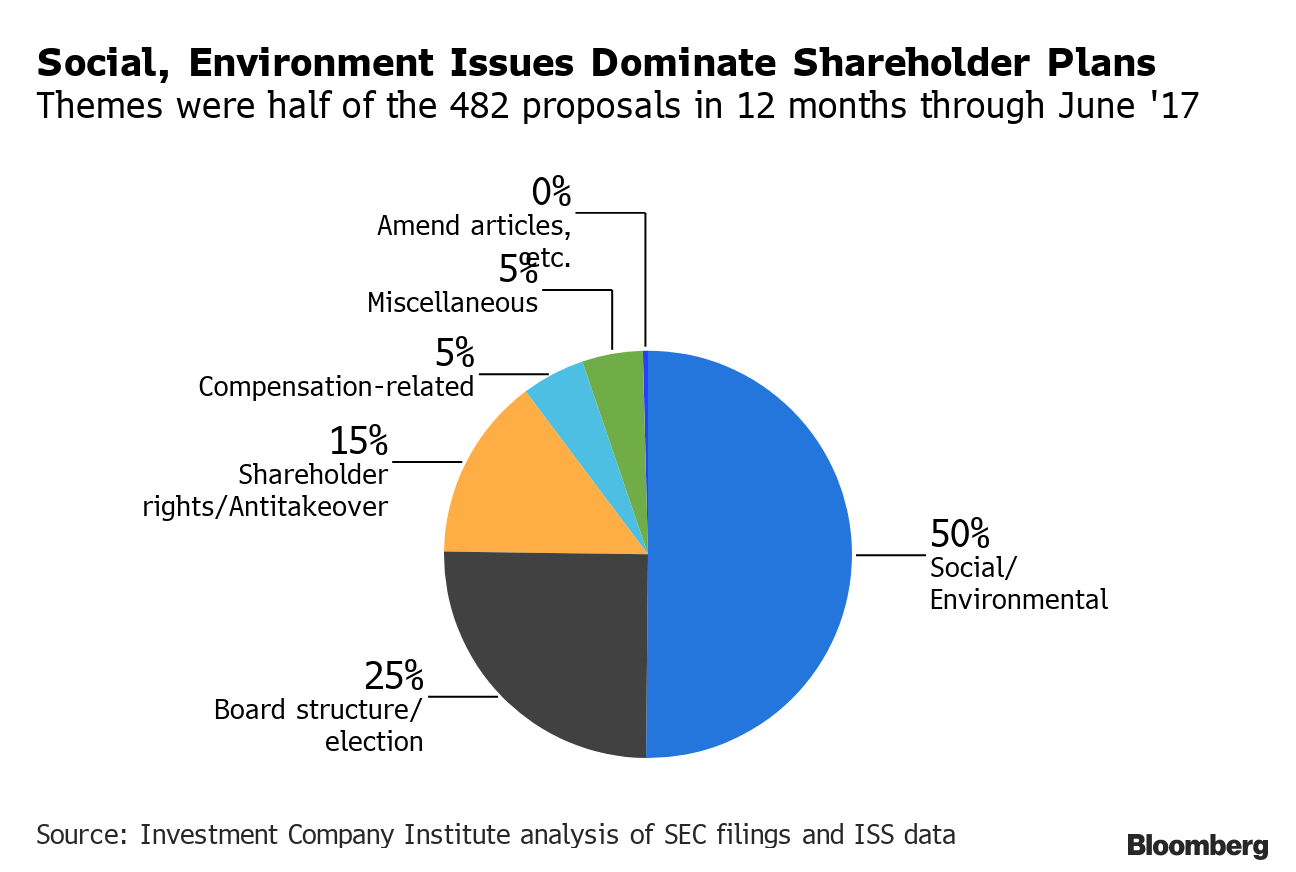 3) Impact Investing for Everyone
ESG and impact investing have largely been focused on wealthy and institutional investors, but 2019 was the year that started to shift. ETF strategies focused on ESG issues had their best year ever, hauling in $8 billion in assets as fees dropped and the popularity of socially responsible investing gained mainstream attention, according to data compiled by Bloomberg Intelligence. Winning over mom-and-pop ESG investors, and millennials with 401k assets, will be a major push in 2020 as well, even as large private equity firms have hauled in a similar amount to spend on impact in the past year. The great democratization of ESG investing is finally gaining momentum, says Amit Bouri, chief executive of the Global Impact Investing Network. "If you look at what people are seeking in terms of where they work, what they buy and increasingly what they invest in, they want their dollars to be put to work to have a positive impact on the world and I think there's going to be a huge opportunity for financial services in that," Bouri said. "We've only scratched the surface."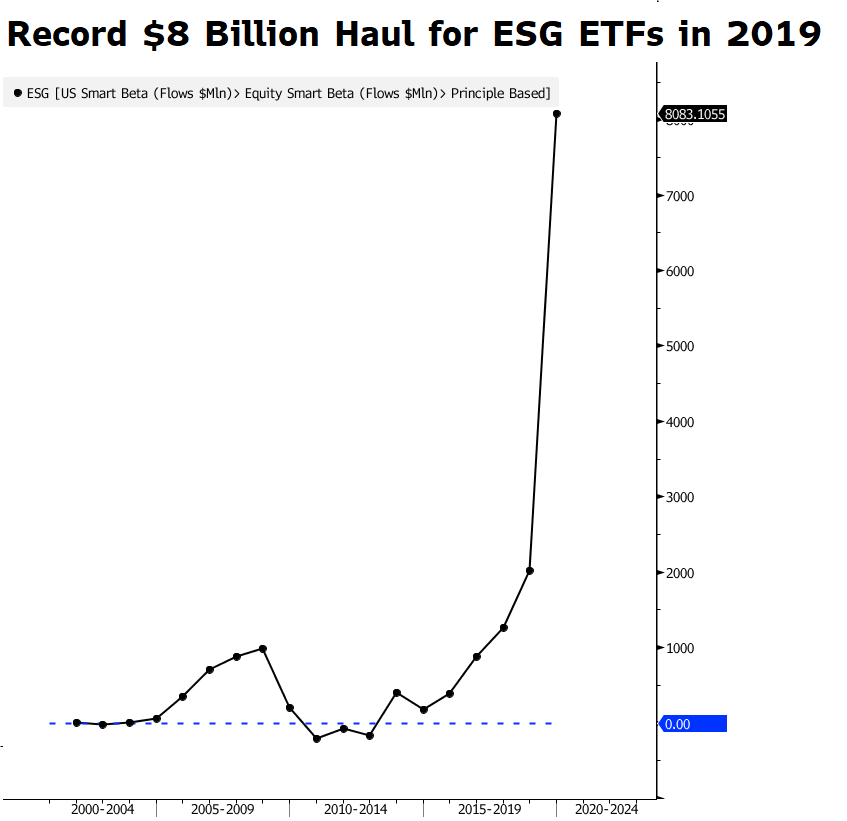 4) Focus on Lending 
Financial firms are likely to face more pressure over climate risk in their lending portfolios, which is partially behind the surge in green- and sustainability-linked loans in 2019 and 2018. Companies borrowed $78 billion in green loans in 2019, up from $60.5 billion in 2018. Sumitomo Mitsui Financial was the top arranger of global green loans for the year. Banks like Goldman Sachs are strengthening rules about what type of fossil fuel financing is allowed. And in a sign that green and sustainable lending will focus more on industries that are big users of fossil fuels, the first green-financed aircraft was delivered last week for a plane designed to reduce emissions. "There's this idea around transparency and alignment that's been gaining traction," said Legal & General's Hoeppner. "If you're going to finance sustainable solutions there will be questions about whether you are not financing coal companies and that consistency question will be at the heart of the issue."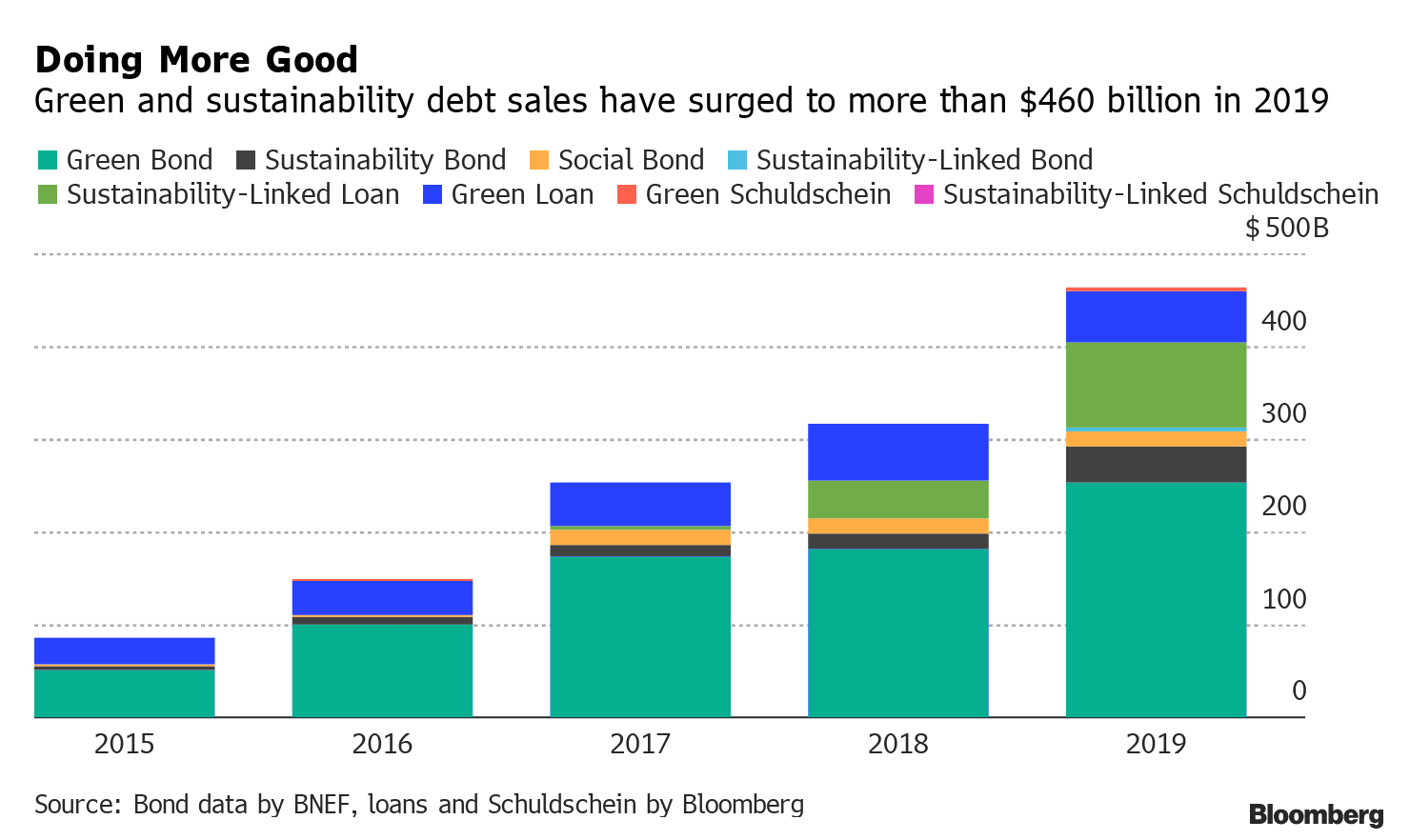 5) Circularity Beyond Plastics 
Last year was the year that plastic waste got top billing, but expect that push to expand to other sectors that generate trash like clothing and food waste in 2020. The recycling sector in the U.S. is still reeling from China's decision to ban imported contaminated recycling, while Asian recyclers are starting to attract more investment. It's unclear how much of a difference all the new corporate recycling commitments will make without a major shift in focus to reduce disposability and improve infrastructure. Prices for U.S. recycled paper have plummeted into negative territory and virgin plastic is cheaper than recycled plastic. "We created this falsehood in America that recycling was free to the consumer," said Richard Coupland, vice president of municipal sales at U.S. waste hauler Republic Services. "There are a lot of recyclers having to close their businesses, some cities in America have had to stop all their programs and this country still needs the capacity."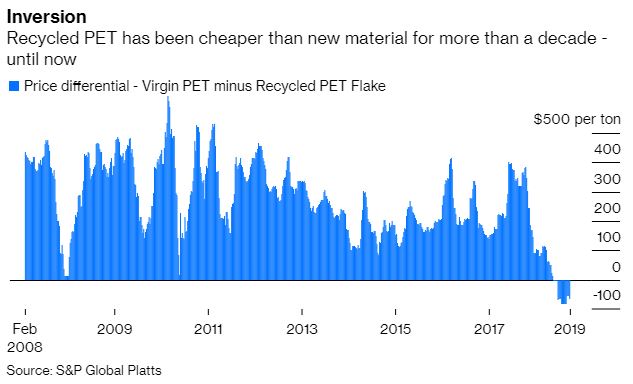 Sustainable Finance
Electric truck maker Rivian raised $1.3 billion from investors led by T.Rowe Price. Amazon, Ford Motor and funds managed by BlackRock also participated in the round. 

The Hartford said it will no longer insure or invest in companies that generate over 25% of their revenues from coal mining. 
Hong Kong-listed companies will need to start divulging greater details on their ESG issues starting in July, including mandatory disclosures, a board statement on consideration of ESG matters and a report on significant climate-related issues. 
Global banks' plans to go green still include a lot of oil and gas lending, writes Bloomberg's Saijel Kishan.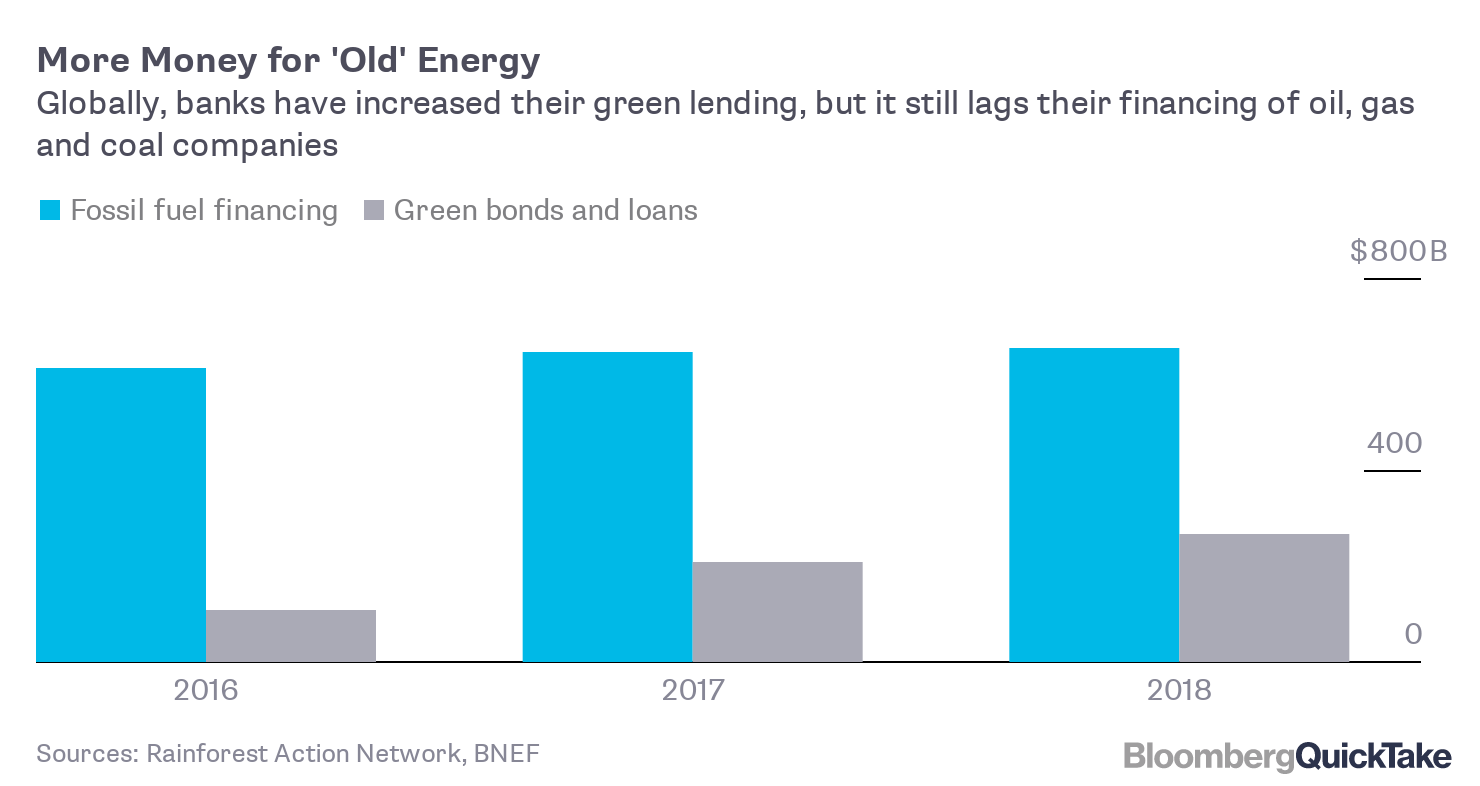 Environment
The worst case scenario for climate change doesn't look realistic anymore. The doomsday scenario might not require a complete overhaul of capitalism, but 2.5 degrees of warming would still be devastating for people all over the world. 

There's a paradox in new rules to clean up shipping fuel. Cleaner marine fuels with less sulfur will improve air quality and reduce premature deaths worldwide, but the reduction in sulfur over the ocean could also reduce the ability of clouds to reflect heat and worsen global warming. 

Young climate activists who sued the U.S. in 2015 to force changes in government policy said the Trump administration's actions increase the urgency for the case to go to trial.

The U.S. Environmental Protection Agency's panel of science advisors see major flaws in U.S. President Donald Trump's plan to ease auto emissions rules. 

Australia's wildfire crisis intensified to coastal towns. Government data showed the nation has never suffered a hotter or drier year than 2019. The bushfires, which started earlier this year and are lasting longer, have released over half of Australia's annual carbon emissions.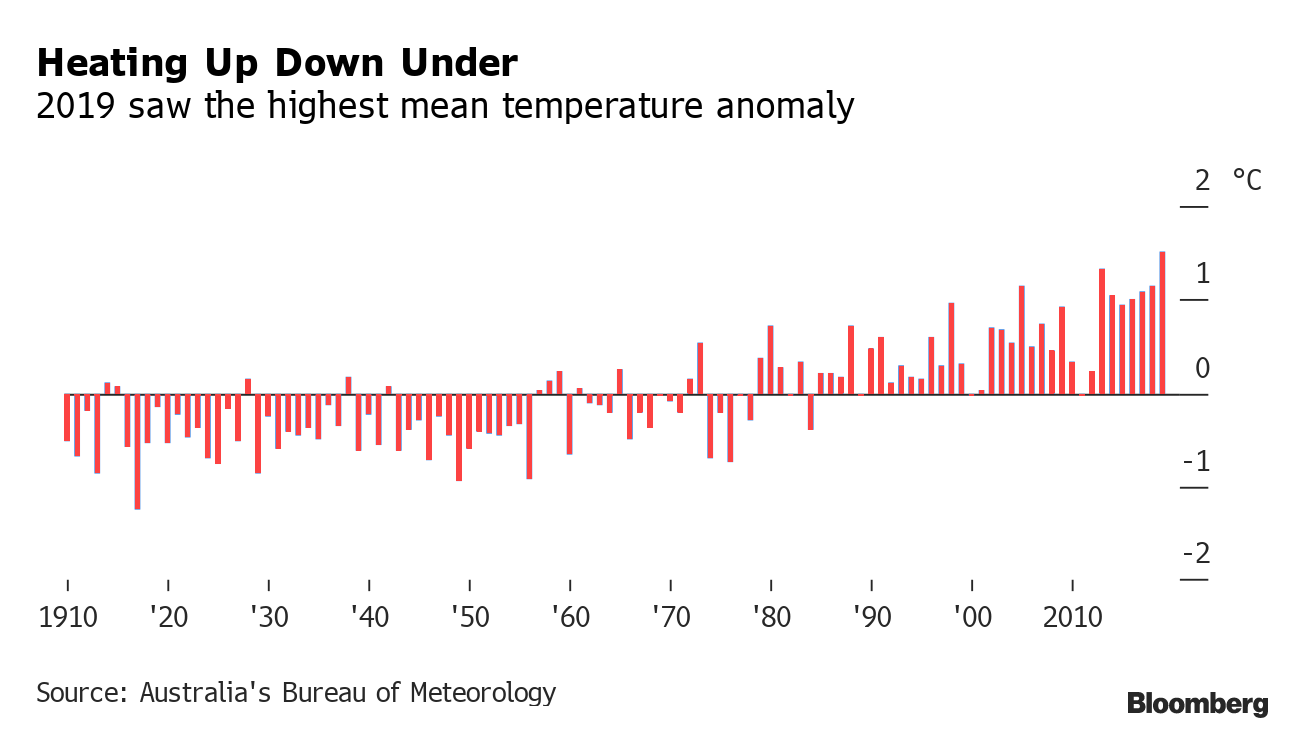 Social
There's a machine silencing #MeToo on Wall Street. The financial industry's mastery of forced arbitration, captive human resources departments, high priced lawyers and a culture of fear have prevented the revolution of the past two years from really touching the industry, write Bloomberg's Max Abelson and Katia Porzecanski. 
Governance
Japan's female share of corporate board seats is just 5.3% — the lowest of the Group of Seven nations. Here's what it's like to be the first woman on a century-old firm's board in the world's second-largest developed economy. 
Brazil has no law that allows the equivalent of U.S. class action lawsuits. The Brazilian government is sending Congress a bill that could allow minority shareholders to seek compensation from the courts in the event of misconduct by corporate boards.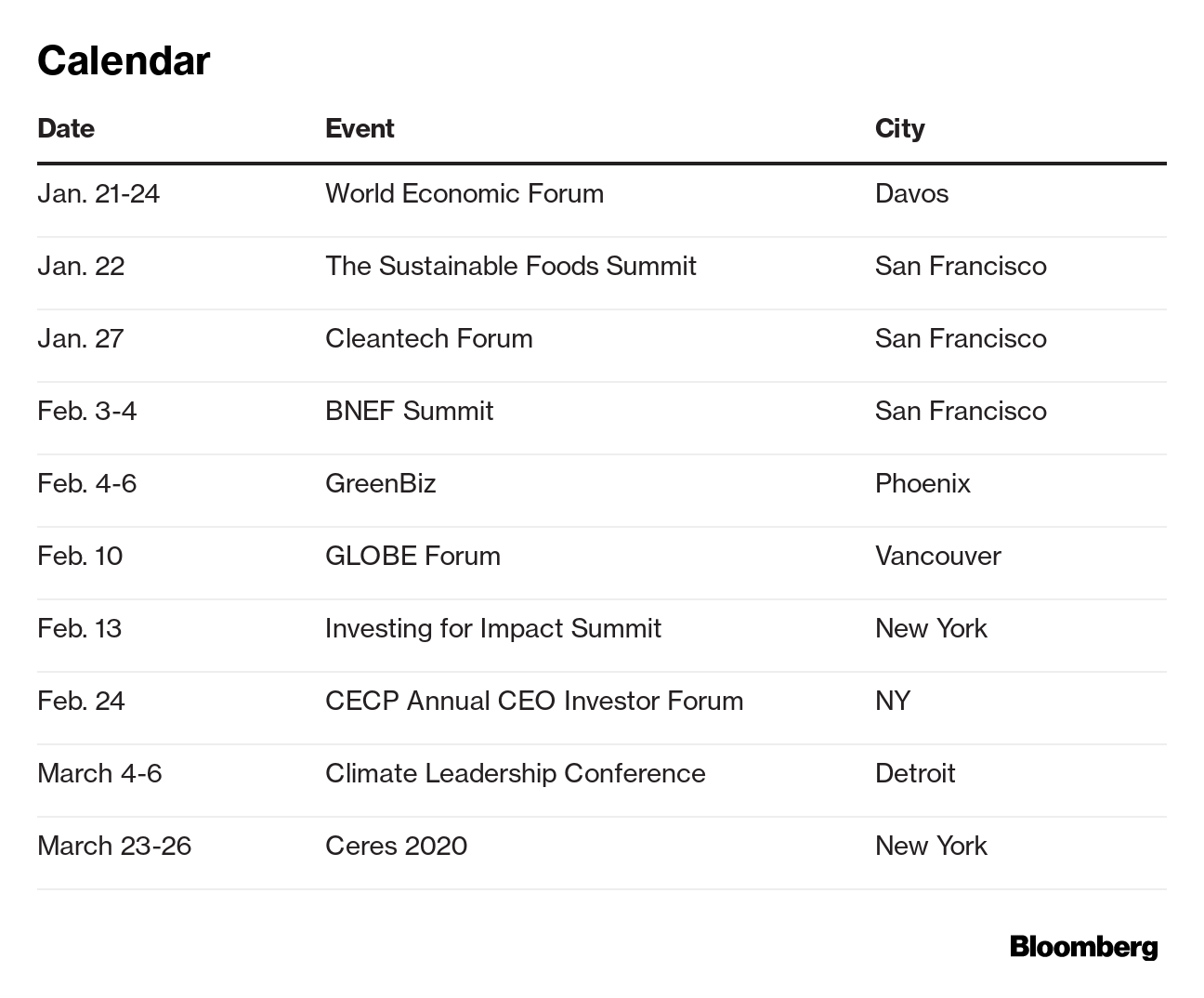 Note: Please send tips, suggestions and feedback to Emily Chasan at echasan1@bloomberg.net.
New subscribers can sign up here. To see this on the web, click here.